Technical Sheet Bodegas Amaren
Type of Wine: Red
Brand: Amaren Graciano
Grape variety: Graciano
Bottle type: Burgundy
Capacity (cl): 75               
Graduation (% vol.): 13,50
Cellar: Love
Regions: Denomination Rioja
Barrel type: French oak
Permanence in Barrel: 18 months
Sercice temperature: 16º-18º C. 
Population: Samaniego
General information
To speak of this wine is to speak of the requirement turned into an obsession. Only from vines over 60 years old, only Graciano, an extremely demanding variety, both in its care in the vineyard and in the winery. A requirement to the limit that leads us to select the grapes in the vineyard even strain by strain. An obsession that is rewarded in a wine that manages to thrill.
Tasting Notes Amaren Graciano
Purple black color, wide sweet and fruity nose, spicy and vegetal with soft aromas of laurel. In the mouth it is structured and wide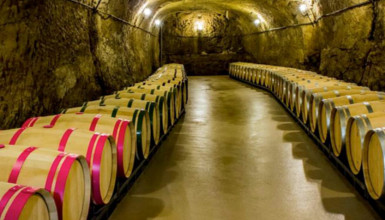 Related products
Diana's smile 2012 benefit case
Perica Technical Sheet
[columns] [span6] Type of Wine: Red Brand: Diana smile Grape variety: Tempranillo      Bottle type: Bordeaux  Capacity (cl): 75                Graduation (% vol.): 13,50 [/ span6] [span6] Warehouse: Parrot Regions: Denomination Rioja Barrel type: French oak Permanence in Barrel: 24-28 months Operating temperature : 16º-18º C.  [/ span6] [/ columns]
General information
Bodegas Perica wants to present its new Wine "Sonrisa de Diana". An excellent 2012 Reserve of selected grapes from vines over 60 years old, made in French oak vats and aged in French limousine oak barrels. But "Diana's Smile" is much more than a Reserve, since the funds obtained from its sale They will be used to finance the Study-Project against the "Malignant Melanoma" that is being developed by the CIBIR (Center for Biomedical Research in La Rioja) and the Carlos III University of Madrid. An international study that wants to end a disease that kills nearly 48,000 people a year, according to figures from the WHO (World Health Organization) and to which Bodegas Perica wants to do its bit. "Sonrisa de Diana" is an excellent tribute Wine that was born to show solidarity.
Tasting Notes Perica Reserva
Intense red-garnet color, with a high, clean and bright robe. Complex nose, with attractive notes of red and black fruits in perfect harmony with spicy aromas, coffee and cocoa, a consequence of the wine's stay in an excellent French oak. It is pleasant and silky, highlighting the sweetness and fineness of the tannins. In the retronasal route, the spicy notes and ripe fruit appear again. Long and persistent aftertaste. Its balanced and elegant structure promises very good life prospects in the bottle.