Technical Sheet Bodegas Pascual Larrieta
Type of Wine: Red
Brand: Pascual Larrieta Crianza
Grape variety: Tempranillo     
Bottle type: Bordeaux 
Capacity (cl): 75               
Graduation (% vol.): 13,50
Cellar: Pascual Larrieta
Regions: Denomination Rioja
Barrel type: French oak
Permanence in Barrel: 12 months
Operating temperature : 16º-18º C. 
Population: The guard
General information
The personality of our wines is the product of a careful selection of grapes: tempranillo in a 90% and white, viura in a 10% for young wine. For aging wines, 100% tempranillo is used. For young wines the method is based on carbonic maceration and for aging, specials and reserves the production system is destemming, the latter with limited production. Fermentation processes control the temperature with the help from a cold team.
Tasting Notes Pascual Larrieta Crianza
Cherry red color, medium-high layer and with garnet hues. Clean and bright with a nose with good intensity and complexity. The aromas of ripe red fruit, wood and toast stand out. Good entry and passage through the mouth. Nice and well balanced. In retroolfaction, the aromas found in the nose appear again. A pleasant finish on the palate, in short, a wine that can be drunk.
Related products
Martinez Alesanco Ecologico 2016
Technical Sheet Martinez Alesanco
[columns] [span6] Type of Wine: 
Organic red
Brand:
Martinez Alesanco
Grape variety: 
Tempranillo     
Bottle type: 
Bordeaux 
Capacity (cl):
 75               
Graduation (% vol.): 
13,50
[/ span6] [span6] Warehouse:
Martinez Alesanco
Regions:
 Denomination Rioja
Barrel type:
French oak
Permanence in Barrel:
12 months
Operating temperature :
16º-18º C. 
Population:
Badaran
[/ span6] [/ columns]
General information
Organic Rioja wine made from grapes of the Tempranillo and Garnacha Tinta varieties, located in small plots in the town of Badarán planted in 1940 and 2007. Harvested by hand at their optimum ripeness at the end of September and the beginning of October 2015 Vinification is carried out in small production tanks, carrying out a classic alcoholic fermentation at controlled temperatures of 22-24ºC, with gentle pumping over and daily manual, during the first stages of fermentation. Being able to respect the fresh and fruity aromas of the Garnacha and without maceration to avoid unnecessary extractions, respecting the grape as in a traditional elaboration. After fermentation, we bleed the tanks to extract, by the simple force of gravity, the highest quality wine, helping it later with a traditional crushing of the grape without the need to subject it to pressing.
Tasting Notes Martinez Alesanco Ecologico
View
: Bright cherry red with garnet reflections. Clean and upper middle layer.
Smell
: Fresh, aromatic where the aromas of red and black fruits stand out, balsamic, menthol notes, sweet spicy notes and a background of red licorice along with soft toasts.
Mouth
: In the mouth, it maintains the fruit and the creamy notes, ripe tannin, good acidity and a long finish where joint notes of fruit and barrel come back.
[caption id = "attachment_17293" align = "aligncenter" width = "1284"]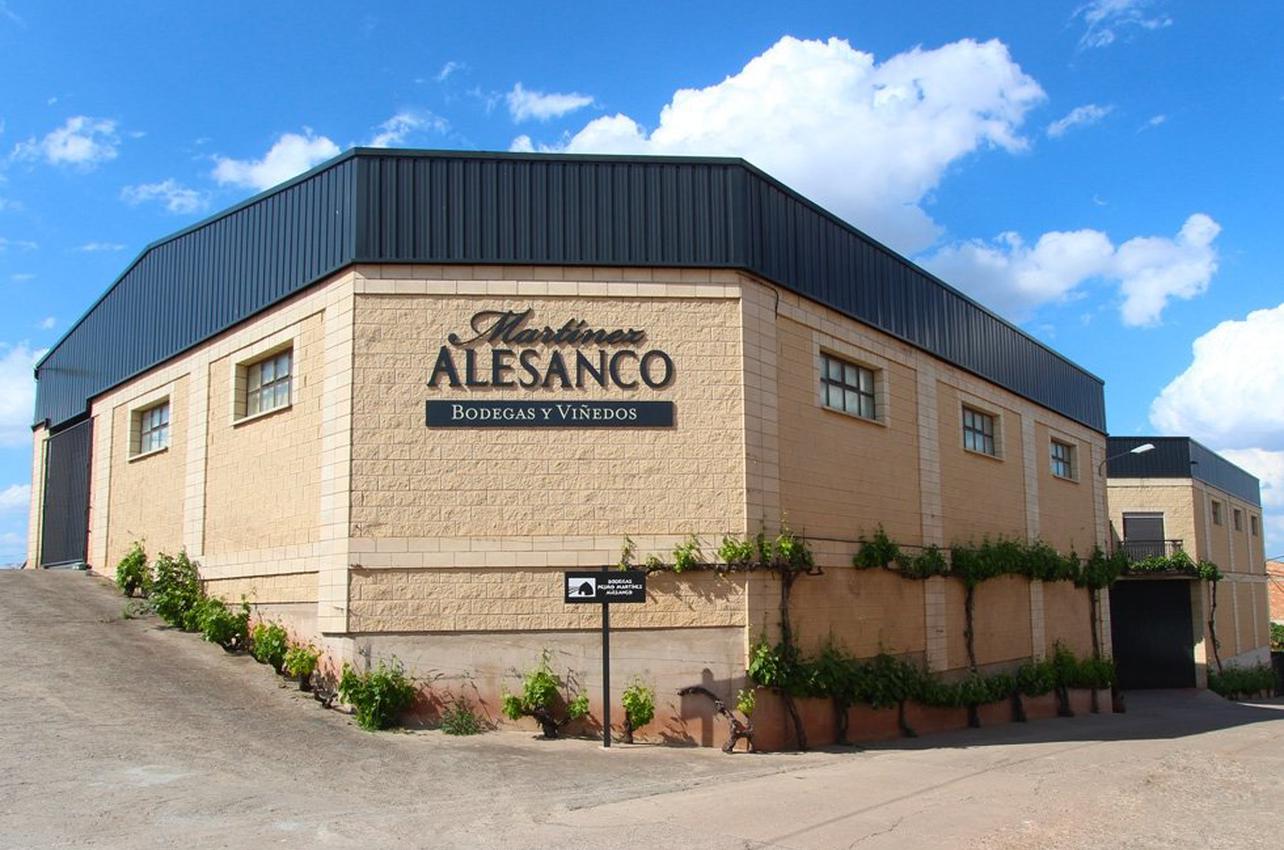 bodegas martinez alesanco [/ caption] [caption id = "attachment_17294" align = "aligncenter" width = "1280"]
bodegas martinez alesanco barrel room [/ caption]
Martinez Alesanco
D.O.C. Rioja