Red wine
Showing 1–12 of 332 results
The best red wine for sale at the Rioja Wine online store. Discover one of the best deals on bottles of red wine.
Viña Tondonia gran reserva 1995
Technical Sheet Bodegas Lopez de Heredia
[columns] [span6] Type of Wine: 
Red
Brand:
Tondonia vineyard
Grape variety: 
Tempranillo, Garnacho and Mazuelo
Bottle type: 
Bordeaux 
Capacity (cl):
 75               
Graduation (% vol.): 
13,50
[/ span6] [span6] Warehouse:
Lopez de Heredia
Regions:
 Denomination Rioja
Barrel type:
French oak
Permanence in Barrel:
10 years
Operating temperature :
16º-18º C. 
Population:
Haro
[/ span6] [/ columns]
General information
In the mythical city of Haro, capital of La Rioja Alta, perhaps where the extraordinary sum of coincidences between the good climate and the severity of the land is best produced, are the López de Heredia Wineries, the oldest in Haro and one of the first three in La Rioja. Back in 1877, and as a result of the concerns created in the middle of the century by the arrival of the French wine merchants (who came to La Rioja to solve the problems caused by the phylloxera in their vineyards), it was when Don Rafael López de Heredia y Landeta, a profound connoisseur and good student of these professionals, decides to follow in his footsteps and begins to plan and build what is now the winery. So wisely and meticulously, that this kind of wine cathedral, like the authentic ones, is still unfinished and perhaps it is from that still latent spirit of the founder the sensation that is breathed, when stepping on his ships, of having traveled backwards in the weather.
Notas de Cata Viña Tondonia gran reserva
Rubí intenso con ribetes de teja. 
Nose: 
Nariz muy fina, fresca, tostada con ligeros aromas a vainilla. Persistente. 
Mouth: 
Muy seco, suave, redondo y evolucionado.
[caption id = "attachment_17220" align = "aligncenter" width = "512"]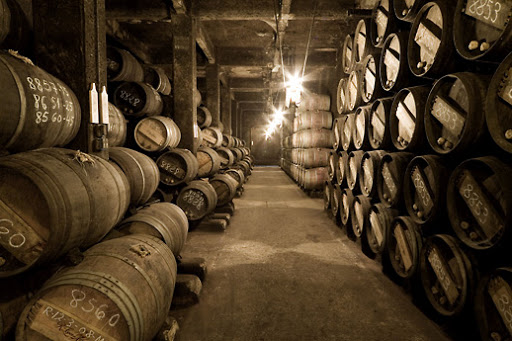 lopez de heredia barrel room [/ caption]
Lopez de Heredia
D.O.C. Rioja