Discover the 5 best books to read with a good wine. Combine the best pleasures: Reading and a glass of your favorite wine.
Get comfortable, lie on the sofa and uncork your favorite bottle of wine because you have a flat lay. The time has come for you to dedicate yourself a moment of relaxation and delight in the best books to read with a good wine.
Say hello to disconnection. From our Rioja online wine store We have prepared a list of the best books to read with a good wine.
The 5 best books to read with a good wine

Fictions.
This book of Jorge Luis Borges tells seventeen short stories that make you reflect on how can you get to influence what we read in our way of seeing things.

The keeper among the rye.
Every teenager should read this work by D. Salinger. Taboos without fear the fears of adolescence: sexuality, the fear of being rejected by the group ... All this using shameless language and through his character in the first person.

The frozen heart.
This book of Almudena Grandes, who is so reminiscent of Galdós's style, tells through two families an exciting panorama of the history of Spain and at the same time, speaks of the conflict with the memory of the new generations.

Don Quijote of La Mancha.
If there is a work that we have imagined reading with a glass in hand, that is undoubtedly Don Quixote. Miguel de Cervantes by means of this satire to the novel of chivalry it recreates the society of its time and the essence of the human condition.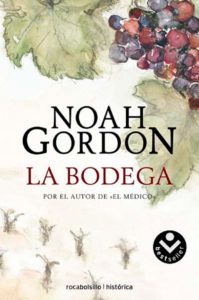 The Cellar.
Speaking of books to read with a good wine "La Bodega" of Noah Gordon. This 2007 novel tells the story of a winegrower's desire to make great wines in his family winery.
We hope that if you decide on any of these books and liven up your reading with a drink, tell us about it by leaving us a comment. Don't forget, the pleasure of having a good wine is greater when you share it.